Mexico's dynamic and diverse real estate market attracts investors worldwide with its enticing investment opportunities. As the landscape of the Mexican real estate sector evolves, two distinct areas have piqued the interest of potential investors: Los Cabos and other significant Mexican hotspots. This comprehensive guide delves deep into these intriguing markets, highlighting their unique characteristics and comparing their opportunities to help you make an informed investment decision.
An In-Depth Look at Real Estate in Los Cabos
Los Cabos, a premier luxury destination on the southern tip of Mexico's Baja California Peninsula, presents a thriving real estate market with unique investment opportunities. Let's look closely at the factors contributing to Los Cabos' allure among property investors.
Current Real Estate Scenario in Los Cabos
Los Cabos' real estate market has consistently grown, with demand often outstripping supply, especially for high-end properties. This demand is driven by domestic and international buyers, with American and Canadian investors playing a significant role due to the region's proximity to North America.
What Makes Los Cabos Unique for Property Investment
Los Cabos is unique, from its spectacular natural beauty to its luxury lifestyle. Its coastal location offers breathtaking views of the Pacific Ocean and the Sea of Cortez, making beachfront properties particularly desirable. However, more than just the physical appeal of Los Cabos attracts investors. The area is also renowned for its safety, high living standards, and welcoming community, all of which add to its appeal as an investment destination. Moreover, Los Cabos boasts world-class amenities, including championship golf courses, luxury spas, high-end dining, and deep-sea fishing. The area's high tourism rates further augment the attractiveness of real estate investment here, particularly for those interested in the short-term rental market.
Understanding the Types of Properties Available in Los Cabos
The real estate offerings in Los Cabos are diverse, catering to a wide range of preferences and budgets. At the luxury end of the spectrum, extravagant beachfront villas and condos exist in areas like Pedregal and Palmilla. These properties often have abundant features like private pools, landscaped gardens, and stunning sea views. There are gated communities like Ventanas or Club Campestre for those seeking a balance between luxury and affordability. These developments offer single-family homes and condos with community amenities like pools, gyms, and security services. On the more affordable end, neighborhoods like El Tezal offer condos and townhouses, providing an entry point into the Los Cabos market for those with more modest budgets.
Pros and Cons of Investing in Los Cabos Real Estate
Like any investment, real estate in Los Cabos has pros and cons. On the positive side, properties in Los Cabos can generate lucrative returns, especially for short-term vacation rentals. The high demand and limited supply also drive significant capital appreciation for properties in prime locations. However, high demand can also be a double-edged sword, leading to buyer competition and property prices. Moreover, while the short-term rental market is strong, it is also seasonal and subject to fluctuations in tourism.
Los Cabos offers a vibrant real estate market with opportunities for substantial returns. However, the market's competitive nature requires prospective investors to move quickly and decisively while conducting thorough due diligence to ensure a successful investment.
Real Estate Opportunities in Other Mexican Hotspots
In Mexico's burgeoning real estate market landscape, several areas stand out as hotspots with unique opportunities. Let's delve deeper into Cancún, Mexico City, and Puerto Vallarta's real estate markets and explore what they offer prospective investors.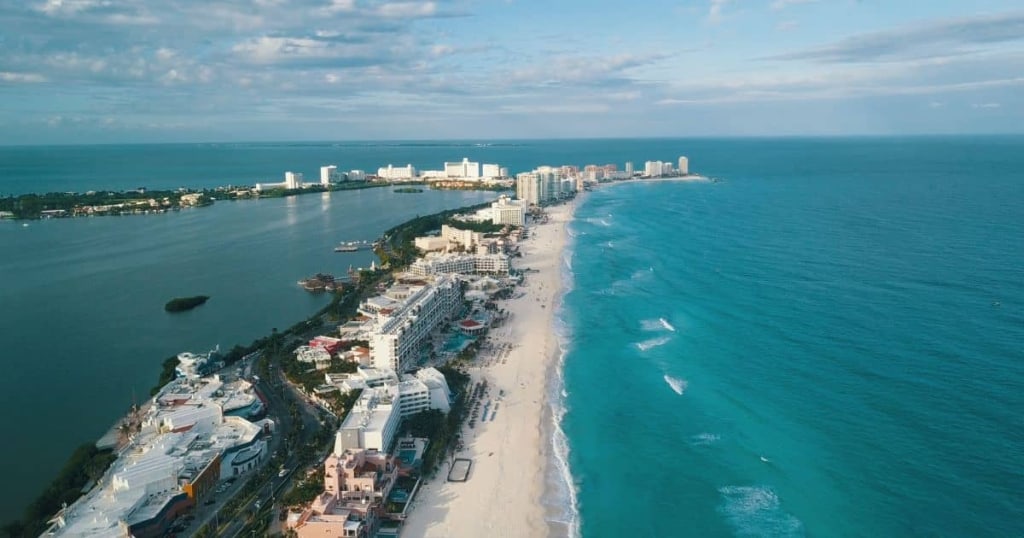 Cancún Real Estate
Cancún, the jewel of the Yucatan Peninsula, is famed for its beautiful beaches, vibrant nightlife, and thriving tourist scene. The city's real estate market offers many opportunities, catering to diverse investment goals.
High-end condos along the Hotel Zone or beachfront villas in gated communities like Puerto Cancún are highly sought after. These properties often fetch attractive rental incomes, especially during the peak tourist season, making them appealing to investors looking for strong returns.
However, Cancún's market is not limited to luxury properties. More affordable single-family homes in residential areas like Downtown Cancún present opportunities for long-term rental income or resale as the city's population grows. Learn more about Cancun.
Mexico City Real Estate
Mexico City is the country's bustling capital and offers a significantly different real estate environment. The city is a melting pot of old and new, with colonial-era buildings juxtaposed against sleek, modern skyscrapers.
Investors looking to tap into the luxury market might consider neighborhoods like Polanco or Lomas de Chapultepec, where high-end apartments and houses can generate substantial rental income. On the other hand, neighborhoods like Roma or Condesa are trendy among the city's burgeoning young professional population, making them ideal for mid-range rental investments. Commercial properties are also a promising avenue in Mexico City. A strong economy and a constant influx of businesses, office spaces, retail locations, and other commercial properties often deliver robust returns. Learn more about Mexico City.
Puerto Vallarta Real Estate
Puerto Vallarta, a resort town on Mexico's Pacific coast, combines the best of beach living and urban amenities. The real estate market here is diverse and dynamic, offering a range of opportunities for investors.
Luxury beachfront villas and condos in areas like Conchas Chinas or Marina Vallarta are prime properties in the rental market, especially for vacationers. The city's old town, Zona Romántica, is renowned for its charming cobblestone streets, boutique apartments, and rooftop condos that provide an authentic Mexican experience. These properties can also fetch attractive rental incomes, short-term from tourists and long-term from expats. Another segment that holds potential in Puerto Vallarta is retirement homes. With a sizable and growing expatriate and retiree population, properties catering to this demographic present promising investment opportunities. Learn more about Puerto Vallarta.
Comparative Analysis: Los Cabos vs. Other Mexican Hotspots
Comparing real estate opportunities in different regions involves careful assessment of numerous factors. Here, we delve into an in-depth analysis of Los Cabos versus other Mexican hotspots, namely Cancún, Mexico City, and Puerto Vallarta.
Property Types and Prices
Los Cabos, renowned for its exclusive resorts and breathtaking seaside properties, holds high prestige in the luxury real estate market. Prices here, especially for beachfront properties, are significantly higher due to the strong demand and limited supply.
In contrast, Cancún, another sought-after coastal location, offers a more diverse range of property prices. You'll find high-end condos with exorbitant price tags and more affordable options farther from the beach.
Mexico City, the country's bustling capital, offers an urban-oriented property market. Here, the prices vary widely depending on the district, with upscale neighborhoods like Polanco commanding top dollar while more residential areas offer relatively affordable options.
Puerto Vallarta, with its charming combination of city and seaside living, also offers a variety of properties, from luxury beachfront villas to affordable condos in the city center.
Potential Return on Investment
Regarding return on investment (ROI), Los Cabos stands out for its robust short-term rental market fueled by tourism. However, the higher initial investment means it could take longer to recoup costs.
Cancún also presents a strong rental market, driven by both tourism and the city's growing population. The lower entry point in Cancún might offer a quicker ROI, especially for properties in popular tourist areas.
As the country's economic hub, Mexico City has a strong long-term rental market. While the returns may not be as high as in tourist areas, they are more stable and less subject to seasonal fluctuations.
Puerto Vallarta offers a balanced opportunity, with both short-term (driven by tourism) and long-term (driven by expats and locals) rental markets contributing to ROI.
Economic and Political Stability
Economic and political stability plays a significant role in the health of any real estate market. While Los Cabos, Cancún, and Puerto Vallarta rely heavily on the tourism industry and are therefore more susceptible to global economic changes, Mexico City's economy is more diverse, cushioning it from such fluctuations. Political stability varies across these regions. While all areas are generally stable, local politics can impact zoning laws, infrastructure development, and property taxes, making it crucial for investors to stay informed about local political conditions.
Impact of Tourism on Real Estate Markets
Tourism is a significant driver for the real estate markets in Los Cabos, Cancún, and Puerto Vallarta. High tourist footfall can yield lucrative short-term rental income. However, dependence on tourism also makes these markets vulnerable to global events impacting travel, such as the COVID-19 pandemic. On the other hand, while attracting tourists, Mexico City has a real estate market driven by its resident population, offering more stability.
Lifestyle Differences and Their Influence on Property Choices
The choice between these markets also depends on the lifestyle you seek. Los Cabos offers a luxurious, beach-oriented lifestyle with golf courses, marinas, and high-end dining. Cancún is for those who prefer a lively beach city with a bustling nightlife. Mexico City offers an urban lifestyle full of cultural experiences, shopping, dining, and the hustle and bustle of city life. Meanwhile, Puerto Vallarta provides a relaxed coastal lifestyle with a strong sense of community and vibrant local culture.
Each of these Mexican hotspots holds unique real estate opportunities. From the beachfront villas of Cancún and the urban apartments of Mexico City to the charming homes of Puerto Vallarta, these markets offer diverse avenues for investment. Understanding the local market, conducting thorough due diligence, and aligning investment choices with personal financial goals is key to successful real estate investing.
Practical Tips for Investing in Mexican Real Estate
Investing in foreign real estate can be a complex process involving numerous factors often unfamiliar to buyers. Here are some practical tips to guide your investment journey in the Mexican real estate market:
Understanding the Legal Aspects of Buying Property in Mexico
Navigating the legalities of property ownership in Mexico is critical. For foreigners, it's important to understand the "Restricted Zone" law, which states that non-Mexicans cannot directly own property within 50 kilometers of the coast or 100 kilometers of an international border. However, they can own through a bank trust (Fideicomiso) or a Mexican corporation. Consider hiring a local attorney specializing in real estate transactions to guide you through the legal processes. They can help you understand the terms of the sale agreement, ensure the property is free of liens, and guide you through the closing process.
Selecting the Right Real Estate Agent or Company
Working with a reliable, experienced real estate agent or company is essential when investing in Mexican real estate. The right agent can help you find properties that fit your investment goals, negotiate prices, and guide you through the transaction process. Ensure that your agent is accredited by the Mexican Association of Real Estate Professionals (AMPI) and has strong local market knowledge. Personal referrals can be valuable in finding a trustworthy agent. We recommend you download our Berkshire Hathaway HomeServices Baja Real Estate Buyers Guide 2023, which offer some great insight into everything buyer related in Los Cabos.
Considering Factors Beyond Price: Location, Amenities, Infrastructure
While price is important, it should not be the sole determining factor in your investment decision. Consider the property's location, proximity to amenities like shops, restaurants, and transportation, and the quality of local infrastructure.
If you're investing in a rental property, consider the property's appeal to potential tenants. For example, properties close to tourist attractions, business districts, or with great views might command higher rental prices.
Leveraging Local Knowledge
Utilizing local knowledge can give you a competitive edge. Understanding neighborhood trends, potential developments, and local market conditions can help you spot undervalued properties or promising areas.
Attend local real estate events, network with local investors and professionals, and read local property news to stay informed.
Financing and Managing Your Property
When it comes to financing your investment, research all available options. Some Mexican banks offer mortgages to foreigners, although rates and terms may not be as favorable as in your home country. Consider financing options in your home country.
Once you've invested, consider how you'll manage the property. You may need to hire a property management company if you're not residing in Mexico full-time. They can handle tenant issues, property maintenance, rent collection, and more.
Conclusion
Choosing between Los Cabos and other Mexican hotspots for real estate investments depends on your preferences, investment goals, and risk tolerance. Regardless of your choice, it's clear that Mexico's real estate market holds promising opportunities. As we look towards the future, the sector is poised for growth, making now an opportune time to invest in the Mexican real estate market. Investing in Mexican real estate can be a rewarding venture if done right. Understanding the market, seeking professional guidance, and conducting thorough due diligence is key to ensuring a successful investment in this vibrant market.